Check here often for PPI News and Events. We'll have the latest and greatest from PPI posted right here!
---
06/30/04
2004 Makeup Artist Tradeshow Photos Coming Soon!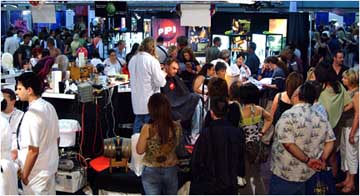 Makeup Artist Richard Snell draws
a crowd at the 2004 tradeshow.
(Click on image to enlarge)

Thanks to everyone who took the time to visit us at this year's International Makeup Artist Tradeshow. We had a great time seeing old friends and making new ones. We had the pleasure of presenting six amazing artists who were gracious enough to share their talents at our booth. A special thanks to Richard Snell, Todd McIntosh, David DeLeon, Mike Smithson, Peter Montagna and Richard Farrell. In addition, we featured some amazing free-hand tattoos by Muri Okumura and Dana Lee as well as Joe Blasco Makeup School students Reiko Tanaka and Andrea Lee. We will soon be posting over 300 photos of their work.

---
06/01/04
PPI at the International Makeup Artist Tradeshow
For the eighth year in a row PPI will be exhibiting at the IMATS in Pasadena, CA. PPI will be featuring complete, start to finish makeup demonstrations from some of the industry's top professionals including Richard Snell, Todd McIntosh, David DeLeon, Peter Montagna, Mike Smithson & Richard Farrell (artists demos subject to change depending on schedule). PPI will also be debuting several new products including the new Skin Illustrator Mardi Gras Palette. As usual, PPI will be offering great show discounts on the entire product line!
click for more tradeshow info
See you at the Show!!!

---
05/12/04
SPECIAL EFFECTS ARTIST SERVES IN IRAQ

PPI would like to acknowledge and thank our friend Tony Grow for his service in the United States Marine Corps.
Gunnery Sergeant Anthony Grow
is currently stationed in Ramadi, Iraq and is serving with the 3rd battalion, 11th Marines from 29 Palms, CA. This is Tony's second tour of duty in Iraq.

When not in uniform, Tony is a special effects artist and monster
maker. Before his second deployment, Tony was working for
Todd Masters at Masters Effects in Los Angeles, CA. We would
like to wish Tony and all the Marines and sailors the very best. Our thoughts and prayers are with all of you. Get home safely.

If you would like to wish Tony and the boys well or pass on a note of encouragement, please send an email to info@ppi.cc. We'll regularly send your messages to Tony. If you are interested in helping Tony and his marines and sailors feel more at home while they are away, please email your inquiry to eric@ppi.cc. No donations requested or accepted. Thank you.

---
04/30/04
TIRED OF HAIR COLOR FADING?
Intense Color Care Therapy is here -
PPI's new COLOR GUARD Shampoo and Conditioner protects dyed, permed and color treated hair from fading and damage caused by UV exposure and normal shampooing. Photo-induced free radicals weaken the structure of hair and reduce the life of hair dyes - leading to dull lifeless-looking hair.
Color Guard contains helianthus annuus, an herbal extract made from hydroglycolic sunflower seed extract which has been scientifically proven to neutralize the oxidative radicals that fade hair color. The result is vibrant, longer lasting color! whether hair is dyed, permed, color treated or untreated, COLOR GUARD with helianthus annus, is nature's best defense against color fading.
---
03/20/04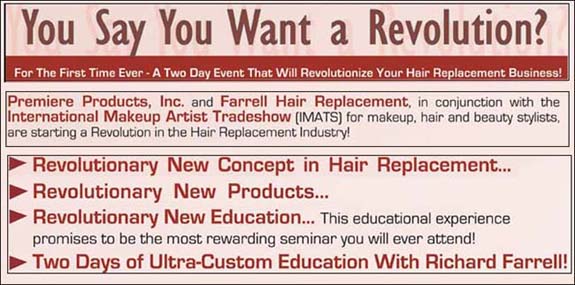 ---
02/19/04
PPI and FARRELL HAIR EXCLUSIVE
Premiere Products Inc. is proud to announce our long awaited alliance with hair restoration artist Richard Farrell of Farrell Hair Replacement. PPI is working closely with Richard to formulate and manufacture a complete line of hair replacement products exclusively for Farrell hair Replacement, including adhesives, removers, shampoos, conditioners and skin care treatment products. This new line of products, Farrell Formula, is designed to provide the utmost care in maintaining Farrell's superior, one-of-a-kind hair systems.
For over 25 years, Richard Farrell has been at the forefront of the hair replacement industry, designing the most undetectable "Ultra-Custom" lace hair systems available. He has salons in Los Angeles, New York, Atlanta, Chicago and he also teaches and performs consultations around the world. His work is truly exceptional and PPI is very pleased to be making a custom line of products that compliments his superior hair systems.
The alliance of these two corporations is designed to revolutionize the hair replacement industry by providing the customer with the ultimate in quality, efficacy and service.
Visit Richard's website: <Farrell Hair Replacement>
---
---