Check here often for PPI News and Events. We'll have the latest and greatest from PPI posted right here!
---

PPI to exhibit at the June, 2008 International Makeup
Artist Tradeshow (IMATS) in Pasadena, CA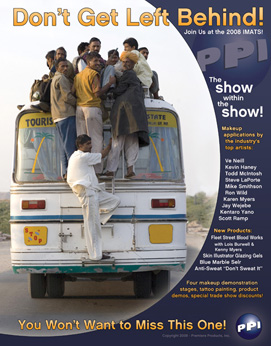 ---


The Snell twins, Morgan and Macallan, seemed pleased with the news they received from Santa. This latest Holiday photo of the beautiful twin daughters of Richard and Shantell Snell show the girls in the Christmas Spirit. Only sixteen months old, Morgan and Macallan are growing up so fast and we thought you might like to see their progress.


---
In the spring of 2000, Last Looks Makeup Academy (LLMA) embarked on a mission to bring professional Hollywood beauty and special effects makeup courses to cities around the world. On May 12, LLMA officially opened their doors and offered their first traveling makeup course - it was a success.

Five years later, LLMA has taught courses in Chicago, Atlantic City, Miami, Orlando, Austin, Dallas, San Francisco, San Diego, Los Angeles, Las Vegas, Vancouver and Toronto. The makeup school has recently hit a new milestone during it's 5 year anniversary accepting it's 1000th student in Chicago. While 1000 students may not seem like a large number compared to other schools, it is for "Last Looks" considering that each class only accepts fourteen students. CEO and co-founder Heather Savalas explains:
"Our goal is to reach people who are interested in professional makeup education but simply can't afford to leave their jobs for months at a time, spend money on airline tickets, hotels or apartments, and have no source of income due to a prolonged course of study in makeup. The only way we can teach effectively is by incorporating a hands-on approach to teaching. We keep the class size small so each student can get the most out of the instructor. They don't just ask questions, they perform makeup applications right there in the class room in front of the instructor. They learn how to do things right the first time".
The make up courses are generally 2-3 days in length, 8 hours a day and cover all aspects of Beauty and Special Effects makeup for Television and Film. A bridal makeup course is even offered. All their courses are taught by Emmy Award winning makeup artists. One of Last Looks' owners, Gregory Savalas explained why only Emmy winning makeup artists currently working in the Industry teach for the Academy,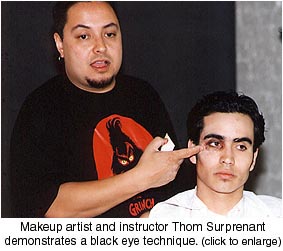 "When one of our instructors comes back from a TV show or movie with a new product or technique, we add it to the curriculum. Our classes remain state-of-the-art, and our students get to work with the latest and best products. We only employ working makeup artists because we want them on that frontline everyday, seeing what works and what doesn't. It affords us the opportunity to teach with the best."

Along with makeup artist instructors Jill Rockow, Marianne Skiba, Thom Surprenant and Mary Kay Witt, Last Looks has added Makeup Artist Kevin-James Bennett to their list of award winning instructors.

So what's in the future for "Last Looks Makeup Academy"? The World!
Greg Savalas,

"We're successful here in the states. We're successful in Canada. We've even taught classes in Mexico City. Our next goal is to teach in Europe. As Hollywood becomes more and more globalized, many productions are now shot in other countries. Australia and New Zealand have churned out many major films and Eastern and Central Europe are quickly becoming regular production locations for major films. But experienced makeup artists are hard to come by in those parts because the medium is so new for them. We would like to help these locations produce talented artists that can meet the challenge of today's industry."


With a great game plan and a desire to help guide and mold tomorrow's Oscar winners, Last Looks Makeup Academy can truly influence the future world of makeup. PPI salutes Last Looks makeup academy for 5 successful years in the business, and we wish you many more.
Visit Last Looks Makeup Academy at: www.lastlooksmakeup.com
---

Richard Snell
1955-2006
It is with great sadness that we acknowledge the passing of Richard Snell. A great makeup artist, a true friend and a wonderful human being. Richard died in his sleep of a heart attack on Sunday morning, February 19th, while on location working on "Pirates of the Caribbean 2 & 3".
He is survived by his wife Shantell, and his five month old twin daughters, Morgan Lee & Macallan Grace. Richard is one of our most beloved and oldest friends and we will never forget his friendship, generosity and talent throughout the years. He will be greatly missed.

Shantell is overwhelmed with the love and support she has received from everyone and she wishes to thank Ve Neill, Joel Harlow, John Blake, Brian McManus, Camille Della Santina and Captain Jack's Rumrunners for their special friendship and help.
A fund for his family has been organized and you can send your donations to: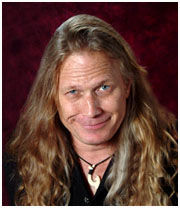 Shantell Snell
C/O John Blake
271 Hodencamp #15
Thousand Oaks, CA 91360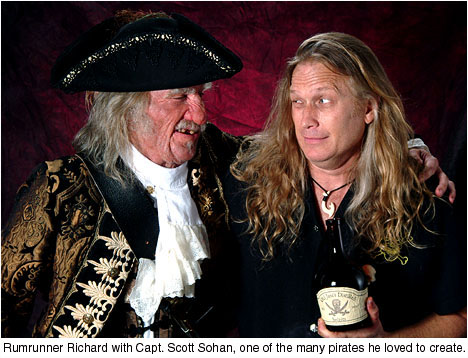 ---
Congratulations to our good friends Richard and Shantell Snell, proud new parents of twin baby girls.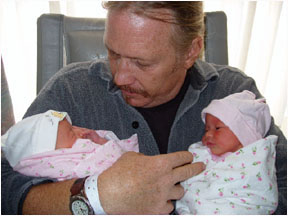 Shantell and Richard (actually Richard just watched) gave birth to Morgan Lee and Macallan Grace Snell at 12:38 PM on September 15th at Cedar Sinai Hospital in Los Angeles. Both parents are doing well and resting comfortably. Richard is currently on paternity leave but will soon return to the Caribbean to continue work on "Pirates of the Caribbean 2 and 3". Until then, Richard and Shantell will have their hands full.



Wishes for a lifetime of blissful happiness from all of us
at PPI. Looks like we need to make a few more gallons of
Telesis Makeup Remover - those girls will be growing up fast!
If you would like to congratulate Richard and Shantell, please
send an email to info@ppi.cc and we will forward all well wishes.
---
On October 1st, Louie Zakarian will begin taping his eleventh season as makeup department head for the NBC's Emmy award winning show, Saturday Night Live.

"I can't believe it's been 11 years, it seems like I started yesterday."


Louie has seen hundreds of cast members and guest hosts come and go through the years but he does have his favorite(s).

Favorite cast member - Will Farrell.
Favorite guest host - Will Farrell.
Favorite makeup - Will Farrell's Devil.

"But my Gollum makeup is a close 2nd!"

With his right hand man, Josh Turi, Louie is ready to start another fast-paced season which will include everything from simple gray hair streaks to full body latex suits and extensive facial prosthetics. "There is so much diversity and so little time to prepare that there is never an opportunity to get bored. I've got a great job!" Congratulations on your new season Louie! PPI is proud to be a part of it.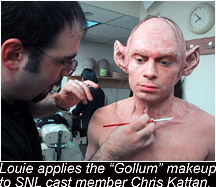 "I've used Telesis adhesives for the last
7 years and they've never let me down.
Top Guard keeps my actors' skin from
getting raw due to excessive makeup
applications. Telesis adhesives and
Top Guard are a part of every show."

Louie Zakarian, Dept. Head
NBC's "Saturday Night Live"

<click to see more of Louie's work>
---
We are pleased to announce that our latest Skin Illustrator custom palette is now available for sale to the public. The Pirate Palette 2, was created for makeup artist
Ve Neill, and is currently being used for the making of the upcoming film, Pirates of the Caribbean: Dead Man's Chest. Visit our links page for a distributor near you. To see a complete list of our Skin Illustrator palettes, click here.
---
Congratulations to Vivian (Jo-Ling) Hsu for winning the Vancouver Film School (VFS) Class Achievement award for class 19. For her excellent work, Vivian received a generous gift basket of products and materials from some of the industry's biggest manufactures. PPI is proud to be
a contributor to this award program. We wish you great success. All the best to Vivian!
---
Thanks to everyone who took the time to visit us at this year's International Makeup Artist Tradeshow in Pasadena, CA. We
had the pleasure of presenting five amazing artists who were gracious enough to share their talents at our booth and we had a great time seeing old friends and making new ones.
A special thanks to PPI veteran artists Kevin Haney, Todd McIntosh and Richard Farrell, as well as PPI Rookies Charles Porlier and Cory Castellano. In addition, we featured some amazing free-hand tattoos by artists Reiko Tanaka, Andrea & Dana Lee as well as artists
Muri Okumura, Tony Grow and Ria Sharples, who applied tattoos to many of the show's attendees. We will soon be posting over 300 photos of their work.
<Click image to enlarge>
---

Recreate any genre of tattoo using the classic aged black and green colors of the past with Skin Illustrator's new Tattoo Classics. From the old, faded, hand-made style to modern recreations of tribal bands to historical designs, Tattoo Classics can easily produce the aged effect you desire. The only variable is your application technique.
Make it look modern, make it look classic, make it look like it's been there forever!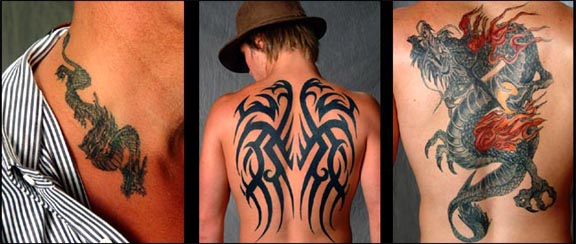 Makeup by Andrea Lee, Dana Lee & Reiko Tanaka.
---
Enter the first annual PPI International Makeup Competition where you can win hundreds of dollars in cash & prizes and have your winning makeup published in Makeup Artist Magazine. PLUS you'll get the opportunity to share the PPI demo stage with some of the world's best makeup artists as you recreate your winning makeup at the 2006 IMATS in Pasadena, California.
All contestants will be judged by a panel of top makeup artists including:
Kenny Myers
Richard Snell
Kevin Haney
Bill Corso
Todd McIntosh
Ve Neil &
Charles Porlier

More info coming soon
---
04/20/05
<click image to enlarge>


PPI has created two amazing NEW acrylic adhesives designed to bond lace and poly based hair systems to the skin with superior strength and comfort. They are STRONG, SAFE, EASY to use and ECONOMICAL!

Both adhesives are great for daily wear, touch-ups and up to 2 weeks of adhesion. Used with Top Guard skin barrier, both adhesives will give strong, long lasting bonds.

SIGMA BOND adhesive is specifically designed for lace front hair systems. An excellent substitute for Be Sure adhesive.
AQUA BOND adhesive is designed for lace front and poly-based hair systems.
Both adhesives have been tested for dermal irritation and have been proven safe for use on the skin. They remove easily with Super Solv or Super Solv Plus adhesive removers. For a limited time only, both adhesives are available through our website for only $16.00 each. Order Yours Today!
---
02/28/05

<click images to enlarge>
Congratulations to make up artists Bill Corso and Valli O'Reilly for their Oscar win at the 77th annual Academy Awards on February 27th.
Two-time Emmy winner Bill Corso took home the best make-up Oscar for his exceptional work on Jim Carrey in the movie,
Lemony Snicket's A Series of Unfortunate Events.
Bill's make-up film credits include: The Haunted Mansion, Bruce Almighty, The Majestic, Planet of the Apes, Artificial Intelligence: AI, How the Grinch Stole Christmas, Galaxy Quest, Man on the Moon, and Batman & Robin, just to n

ame a few. Bill is an avid user of PPI & Skin Illustrator make-up products and has performed many make-up demos for PPI at the annual IMATS trade show in Pasadena, California.
Visit the PPI Players page to see Bill's past make-up demos at the IMATS trade show and watch a short video clip of Bill and Valli answering press questions on the Oscar website.
<click to enlarge>
---
02/14/05
Curtain Call for Telesis 6 and Be Sure 2 Adhesives!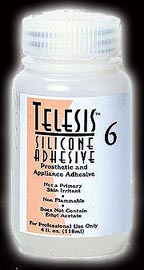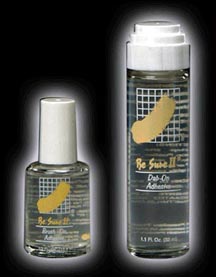 Due to circumstances beyond our control, we are no longer able to manufacture Telesis 6 Adhesive & Thinner and Be Sure 2 Adhesive.
Unfortunately, a raw materials supplier that manufactures two of the ingredients used in both the Telesis 6 and Be Sure 2 Adhesives has been bought out by a larger company and they have chosen not to continue producing these ingredients. PPI is actively working on replacement adhesives and will soon announce our new
Telesis 7 Adhesive.
---
---