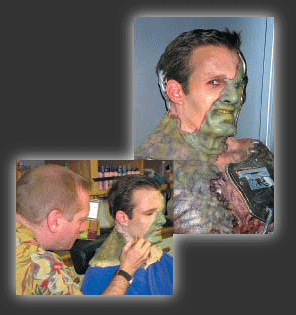 Todd McIntosh using Skin Illustrator palettes and liquids to color the multiple, overlapping foam appliances
on actor George Hetzburg, as "Adam", from
"Buffy The Vampire Slayer."

Photos courtesy of Todd McIntosh
Be sure the skin has been gently cleaned and dried before applying the Skin Illustrator colors. Removal is easy with Super Solv, alcohol or isopropyl myristate. Remember to clean the skin after color removal, then apply moisturizer. All Skin Illustrator liquids can be used to replenish the palettes. To refill the palette cells, squirt a thin layer of desired color into cell; stir, then dry with a hairdryer. Repeat the process until the cell is filled. The key to using Skin Illustrator is to take the time to experiment with the colors. Try different application techniques with a sponge, brush or airbrush, and learn how the colors work under varying conditions. Because art is constantly evolving, Skin Illustrator will always be growing and improving. Some colors in the palette may be substituted, but they will always be available in liquids.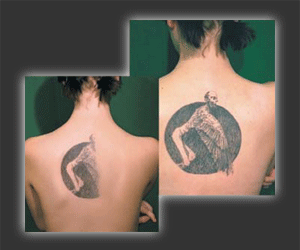 Tatoo Covered with an airbrushed combination of Rice Paper, Natural 1, Lao 1 and a finish thinned-spatter coat of Rose Adjuster II. The entire process, from bottle to camera, completed in 7 minutes.

Make-up by Kenny Myers
Photos courtesy of Kenny Myers