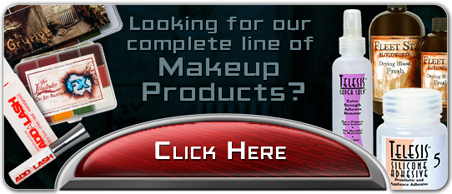 PRODUCT DESCRIPTIONS
Telesis products have proven to be both safe and highly effective in the medical, make-up and cosmetic industries. All products have been tested by independent labs for dermal irritation and they do not contain any known carcinogens or cyto-toxins. These products are available in a variety of sizes. If you have any questions, comments or special requests, please give us a call and we will do all we can to accommodate you.

---
TELESIS SILICONE ADHESIVES AND THINNERS 5 & 6 - WHAT'S THE DIFFERENCE?
Choosing the correct TELESIS SILICONE ADHESIVE is a matter of personal preference. There is no right or wrong adhesive for any particular application. Only the individual make-up artist and medical professional can properly determine which TELESIS product is the best adhesive for a given situation. Regardless of your choice, it is important to understand that all TELESIS SILICONE ADHESIVE are non flammable, pressure sensitive, medical grade products. None of the TELESIS ADHESIVES (or thinners) contain ethyl acetate, and they have all been tested for dermal irritation and have been proven safe for use on skin. The number 4, 5 and 6 represent the order of market introduction, and not the adhesive strength, quality or effectiveness. The most significant difference between the three TELESIS adhesives is the solids content and the solvent type. This causes performance characteristics to be slightly different with each adhesive.

---
A WORD ABOUT THINNERS
All of the TELESIS thinners are non-flammable, medical grade solvent blends, designed for diluting TELESIS SILICONE ADHESIVES. Although various thinners maybe used to dilute TELESIS SILICONE ADHESIVES without hazard, adding other ingredients may change the performance of the original adhesive. Therefore, it is strongly recommended that only the correspondingly numbered thinner be used with the given adhesive.
---
SAFETY IS EVERYTHING
Please be advised - not all products are created equal. We do not recommend blending the TELESIS adhesives or thinners with any other type of adhesive or thinner. Read all labels carefully and never purchase any unmarked bottles. Watch out for methylene chloride and toluene. These chemicals are dangerous and were never intended for use on the skin. For more information, consult the FDA website at: www.fda.gov
PRODUCT DESCRIPTIONS